Beware of the Fall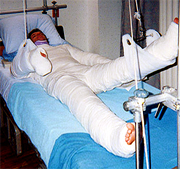 I leaned forward and swallowed hard. It wasn't easy to say, "I think God was trying to get your attention," I told her. Patrice whispered, "Maybe so. . . ."
She had fainted while trying to get a good camera angle of a beautiful waterfall near Ithaca, New York. Unconscious, she rolled over the edge and fell 100 feet to the floor of the gorge. Now she was in a body cast with two broken legs, several broken ribs, and a broken back. Also most of her teeth had been knocked out, but she was alive, and doctors expected her to walk out ot the hospital.
Patrice had suffered another fall a couple of years before her tumble into the gorge: a fall from grace. Shortly after her baptism into Christ, she had just stopped coming to church. When urged to come back she replied, "I know I ought to come. Maybe I'll surprise you one of these Sundays." No one could make an X-ray or MRI of the spiritual damage inflicted by that fall; there were no broken bones or knocked-out teeth. But her spiritual life was spurting out like blood from a severe laceration.
Speaking from the experience of his own spiritual nosedive, the Apostle Peter pleads with us, "Be all the more eager to make your calling and election sure. For if you do these things, you will never fall" (2 Peter 1:10). "These things" refers to the ongoing development of the Christian virtues listed in verses 5-7--qualities the Holy Spirit builds into our character as we cooperate with Him. This development process cannot happen to us isolated from the family of God. It takes place through constant interaction and encouragement from fellow Christians.
I wish I could tell you that when Patrice walked out of that hospital, she walked right back into the fellowship of the local church. But it didn't happen. Her temporary resolve to come back to Christ evaporated soon afer she left the hospital. The fractures of her body had healed, but her soul remained shattered and bleeding. She serves as a warning for us: stay away from the edge of the chasm.
Want to Go Deeper?
Despite such reassuring passages as Romans 8:31-39, John 10:27-29, Ephesians 1:13-14, and 1 John 5:11-15, nearly every book of the New Testament warns us of the possibility of falling from grace. Here is a sampling:
Recommended for online reading...
You may be aware of the long-standing debate between Calvinists and Arminians. Here are the arguments on both sides:
Recommended for purchase...
Steve Singleton.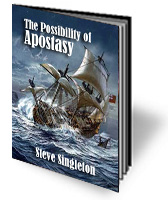 Possibility of Apostasy: Those who know the risk climb more carefully – E-book of 42 passages in the Gospels and the rest of the New Testament regarding whether a saved believer can fall from grace. Also provides similar summaries for 11 passages supporting the security of Christians in their salvation. Only $1.
Dale Moody. Apostasy: A Study in the Epistle to the Hebrews & in Baptist History (1991). – Against the prevailing opinion of his own denomination, Moody presents the case for conditional election that takes seriously the warnings of the Epistle to the Hebrews.
J. M. Pinson, ed. Four Views on Eternal Security
(2002). – Four scholars present their views and dialogue with their critics. The four views are: Classical Calvinism, Moderate Calvinism, Classical Arminianism, and Wesleyan Arminianism. If you believe in listening to both sides of a controversial issue, this book is for you.
Steve Singleton, DeeperStudy.com

Labels: apostasy, fall away, fall from grace, lose faith, perseverance of saints, possibility of apostasy, stop coming to church